Note: Justin Hart is the founder of MyManMitt.com and serves as an unpaid advisor to the Mitt Romney campaign on the Faith and Values Committee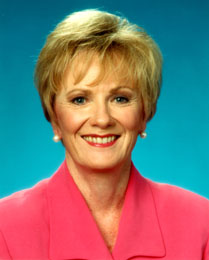 Today, Governor Mitt Romney announced that Texas Congresswoman Kay Granger has endorsed his candidacy for President of the United States. Congresswoman Granger will serve as National Co-Chair of the Women for Mitt coalition and will be a campaign surrogate to help communicate Governor Romney's message of conservative change in Washington.
"I am proud to have the endorsement of Congresswoman Granger," Governor Romney said today. "She has extensive leadership experience and a comprehensive understanding of the new generation of challenges confronting our nation. She will be a powerful surrogate for our message of making our country stronger by bolstering our national defense, controlling government spending and strengthening the American economy. I look forward to her counsel and guidance as the campaign moves forward."
Joining Romney for President, Congresswoman Granger said, "Governor Romney is a proven leader and natural problem solver. He has demonstrated the ability to turn problems into successes. As Americans, we need his leadership in Washington. He is the only candidate to demonstrate that he has a strategy to make America stronger by returning to our core conservative principles that have made this country so great. I am proud to join his campaign."
Background On Congresswoman Kay Granger:Kay Granger Is The Former Mayor Of Fort Worth, Texas And Is Currently The Highest Ranking Republican Woman In The House Of Representatives.
In November 2006, she was elected to the Republican House leadership for the 110th Congress, serving as vice chair of the Republican Conference. She is co-chair of the Iraqi Women's Caucus. Granger sits on the Appropriations Committee and serves on the Energy and Water Development, Homeland Security and Military Construction/Veterans Affairs Appropriations Subcommittees. Granger co-chairs the Anti-Terrorism Caucus and serves as a deputy whip. Today, she is considered one of the House of Representatives' leading defense experts.
Labels: Endorsement